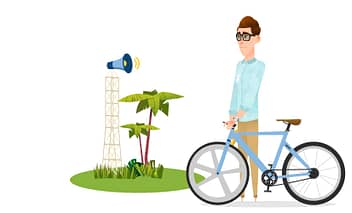 Audible security alarm
OsmoAlertTM
Wireless audible alarm system covering the campsite
Outdoor loudspeakers resistant to bad weather
Broadcasting of pre-recorded messages or directly by microphone
Totally safe battery-powered system
Independent of the Wi-Fi network
Meets regulations and security standards for campsites
The solution in detail
Entirely developed and patented by its R&D & service, Osmozis offers its wireless audible alarm device, OsmoAlert™, covering the site to guarantee security, and alert all holidaymakers in case of danger (fire, flood, storn…)
OsmoAlert™, equipment and turnkey solutions
OsmoAlert™ is a turnkey service which does not require any VRD (Voltage Reduction Device) installation. Supported by an Osmozis transport network, OsmoAlert™ is an audible warning device which is easy to implement, and is entirely secure and reliable. The OsmoSpots™ involved in the OsmoAlert™ solution have an autonomous energy supply, by the addition of an emergency supply. Installed in a few days by Osmozis technicians, your OsmoAlert™ alarm system is quickly operational.
For an optimal service guarantee, Osmozis guarantees the supervision, maintenance and servicing on-site, including changing the batteries before the end of their life.
A reliable solution to strengthen security
The OsmoAlert™ audible alarm device is comprised of:
a microphone with keys programmed at reception;
outdoor loud speakers connected to a 5 GHz wireless transport network; and
energy-safe mechanisms for all points of the battery-operated system.
Your multi-connected service, able to operate both with a master control and automatically
Battery operated system (autonomous for a minimum of 2 hours)
Recording of a voice message on the server
Replaying of this message on the transmitter, to check it can be heard
Broadcasting of pre-recorded messages
Broadcasting of a direct message by microphone
We solve
your everyday problems
I wish to be able to alert holidaymakers in case of emergency (fire, flood, storm…)
I would like an alarm which even works during a power cut
I would like to be able to broadcast pre-recorded or live messages
What they say about it
About OsmoAlert™
"With the OsmoAlert, holidaymakers are safe. I had this system installed on my campsite following a request from the safety committee. I haven't yet used it (fortunately!) but it could prove practical for making announcements on the campsite.
Just one word to remember: tranquillity. "

I am interested in this solution, I would like an adviser to call me back
I am interested in this solution, I would like an adviser to call me back