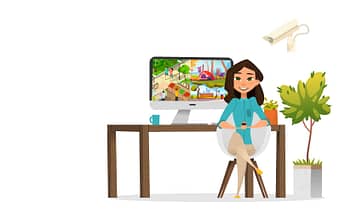 Video surveillance
OsmoCamTM
Wireless network of cameras across the entire site
Interior and exterior high resolution, infrared and anti vandalism cameras
Remote monitoring from your mobile/tablet/desktop
Service guarantee with supervision for 365 days a year
The solution in detail
The wireless video protection solution by Osmozis has been completely developed by the company's R&D & service. It has been patented, and is based upon open IP standards. The cameras are installed on an Osmozis transport network, entirely adapted to extensive grounds. In addition, the client service by Osmozis provides both efficiency and reactivity, support for users throughout the year.
OsmoCam™, smart technology camera solutions
Supported by its multi-service Wi-Fi network or a 5 GHz transport system, Osmozis is capable of wirelessly linking the network of cameras, across the entire establishment.
The interior and exterior cameras, with an anti-vandalism option, provide excellent image quality, with possibilities of Very High Resolution for recognition and identification of individuals, both during the day and the night.
The OsmoCam™ solutions installed have permanent monitoring 365 days per year from Osmozis network monitoring centres, guaranteeing a service quality unique in Europe.
A flexible and developing service
A solution which enables a strengthening of security, permanent monitoring of vulnerable areas of the establishment and ensures the protection of property and people.
As for the typical areas to monitor:
Access/Entry/Car Parks
Water Parks/Swimming Pools
Entertainment Areas/Maintenance Facilities/Sanitary Blocks
Reception/Restaurant(s)
Keep an eye, at any time, on your surveillance cameras
Your secure client area enables you to remotely monitor your site, from your computer, your mobile or your tablet.
Technical information:
Server for management and storage with RAID data security
Display on all types of terminals, on-site or remotely
Compliance with the laws on video protection
We solve
your everyday problems
I wish to monitor those entering my campsite during the day and the night
I wish to be able to monitor payment points
I wish to be able to identify the perpetrators of acts of vandalism and theft
I wish to be able to be alerted to risky behaviour or trespassing
What they say about it
About OsmoCam™
"The cameras with the OsmoCam solution enable me to monitor remotely, either on my mobile, or from the central display screen, the comings and goings on my campsite. Since the addition of the 4K cameras, the live display is magnificent! "

I am interested in this solution, I would like an adviser to call me back
I am interested in this solution, I would like an adviser to call me back