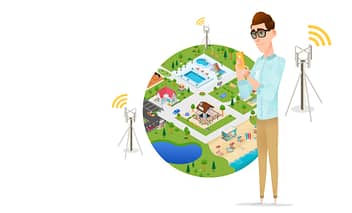 Wi-Fi as a paying service or free
WifiCampingTM
A patented Wi-Fi solution, which is fast and flexible, which revolutionises the technology offering
Turnkey solution up to 1 Gbit/s (the equivalent of 5G speed)
Wi-Fi coverage on 100% of the pitches
Paying service or free Wi-Fi option for holidaymakers
Wi-Fi OsmoSpot™ terminals developed by the Osmozis engineers
And an efficient and available after-sales service
Servicing, updating and replacement of equipment
Installation supervised by Osmozis staff
Presence nearby for rapid intervention
Login portal with your company logo, accessible in 6 languages
Client Area to both consult and manage your services online
Hotline in 6 languages, available 7 days a week from April to September
The solution in detail
Osmozis has adapted to all surface areas and constraints, by guaranteeing a reliable network across 100% of the campsite, at the best speed available, whatever the number of connections.
Osmozis offers its solution:
Free Wi-Fi and/or free pricing (Premium Offering & & Private Offering)
A wide flexibility and able to develop at any time, the OsmoTouch™ system enables you to personalize your price offering (free or paying) and depending upon the type of accommodation or according to the season.
Premium Formula:
Free or free tariff plan
Access tickets delivered by the OsmoTouch™ console
Strengthening your overall offer
Specific referencing on: www.osmozis.com
Fixed monthly costs
Possibility of having a Premium formula by investing in hardware
Private Formula:
Experience Wi-Fi "like you do at home"
An internal connection in each holiday rental.
We solve
your everyday problems
Wi-Fi is not available everywhere on my site
The Wi-Fi is not a good quality
I wish to be able to offer Wi-Fi both as a paying service and free to my guests
I wish to be able to generate income from Wi-Fi
What they say about it
About WifiCamping™
"I equipped my campsite with Osmozis in March 2016. It was with professional equipment and not specifically equipment for the general public. Wi-Fi is a real marketing support, and is a significant service for our campsite. "

I am interested in this solution, I would like an adviser to call me back
I am interested in this solution, I would like an adviser to call me back