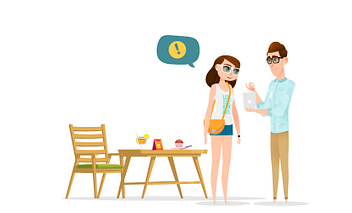 E-concierge
CanalInfoTM
Your activity programme (children, sport, evenings…)
Information on your services (reception, restaurant, spa…)
Booking activities and services
Safety instructions and evacuation plan
No application to upload
Programme is accessible for free 24/7, at any point on the site
Adapted to all types of devices (PC, tablet, smartphone)
Viewing possible on the touch screen at reception
The solution in detail
So that holidaymakers have, both everywhere and at any time, a tool enabling them to access activities, to produce an activity booking and to request an e-concierge service, Osmozis offers the CanalInfo™ solution.
A simple tool to disseminate & and inform people in real time
Supported by its Wi-Fi Multi-Services network, the Canal Info™ is the perfect service to present your activities and services in electronic form for your guests. Canal Info™ enables holidaymakers to book activities, order goods and services from their smartphone or tablet, without uploading the application, or resorting to 3G and 4G operator networks.
From their pitch, without any Internet connexion, holidaymakers can access all of the practical information in your welcome booklet: safety instructions, your internal or external services and activities, your entertainment, with the possibility of making a booking and paying online.
An e-concierge to win customer satisfaction
A schedule of your activities and entertainment (children, sports, evenings…)
Information on your services (reception, restaurant, spa…)
Safety instructions and evacuation plan
Extracting the programme in PDF to display at reception
Platform in 6 languages
No need to upload an application
Programme freely accessible 24/7, on any part of the site
Adapted to all types of devices (PC, tablet, smartphone)
Viewing possible on the interactive touch screen at reception
Increase visibility with a touch screen
In addition to the Canal Info™ service, you will be able to have a 42" touch screen. The Totem Info™ relays your information, and increases the visibility of your activities and services, from your holidaymakers' arrival.
Partnerships facilitated, additional services for your guests
No need to for them to move! You guests can book directly online and pay for activities or paying services (order a pizza, book a tennis court, buy a massage session…) including the services of your external partners (the restaurant, canoeing, riding school, diving…).
We solve
your everyday problems
I would like a practical solution so that my guests can book a service or activity, without going to reception
I wish to be able to disseminate my programmes for activities and evenings and any other information in real time
I wish to ensure I have an e-concierge to better meet my guests' requirements

I am interested in this solution, I would like an adviser to call me back
I am interested in this solution, I would like an adviser to call me back